Find out how to download, install and configure Voicemeeter in a quick and easy way, so you can use this software on your online radio station.
It is necessary to configure Voicemeeter with our streaming software and the audio automation software before we can start speaking.
We can use Voicemeeter's control panel to broadcast our audio files (songs, ads) from our audio automation software (like ZaraRadio) together with our voice live captured by a mic at the same time.
Open VoiceMeeter:
This is the control panel screen, immediately after installed:
To live voice broadcast, you always will need to run this software.
For those familiar with Virtual Audio Cable 4.1, it works just like "Audio Repeater", but much more intuitive and complete.
It may appear a little complex at first, but we assure you that it is extremely simple to use, besides allowing several functions which the most-used alternative (Virtual Audio Cable 4.1) does not allow.
Let's start!
In option "1 – HARDWARE INPUT", select your microphone or the return from your soundboard, as shown in the image below:
Also, we can change the input name to easier identify each device used.
To do it, right click on the button of the mouse on "HARDWARE INPUT", and type the name you want for this device.
Look:
For instance, we can change "VIRTUAL INPUT" to ZaraRadio:
With the option "2 – HARDWARE INPUT", its the same.
Use this option just like the instruction above if you have more than one microphone connected to the computer.
VoiceMeeter also have audio feedback, what means that you will be able to listen to everything that you speak or that ZaraRadio plays without requiring additional configurations.
To ensure this audio feedback, you just need to check the output called "A1(Main OUT)".
Be sure that your headphone or audio monitor is selected there, as shown in the image below: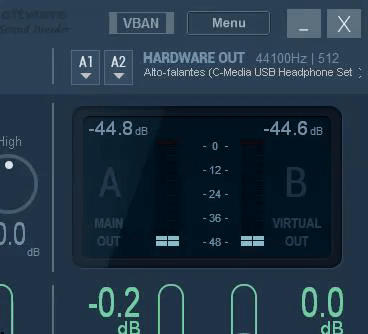 Done!
Now you can play your songs on ZaraRadio and speak to your audience like a pro, as if you were in a fully equiped radio studio!
VoiceMeeter also allows several additional adjustments, which greatly improve the versatility of your live broadcast.
To learn how to master these tools, follow the next step!
Live voice broadcasting
When we start to speak, we can also lower the volume that comes from ZaraRadio.
Doing that we can speak with a soft song as background.
You can do this in a very easy way with VoiceMeeter, lowering the gain of the volume bar in the option "VIRTUAL INPUT".
Look:
And at the end of our speak time, we can just "mute" the microphone, and then only the song played on ZaraRadio will be broadcasted:
Using these tools we can have a broadcast in a pro level with a low cost.
This software is free and extremely reliable.
It is indispensable, however, that the buttons "A" and "B" are always ON, as in the image below:

Unmarking option "A", we will not have audio feedback.
Unmarking option "B", we will not have any sound being sent to our radio.
Do you have any question?
If you are one of our customers, please, click here to open a support request. We will assist you as you needed.
Not a customer yet?
Click here to start your radio station right now!
You can try our services without any cost and with no commitment!